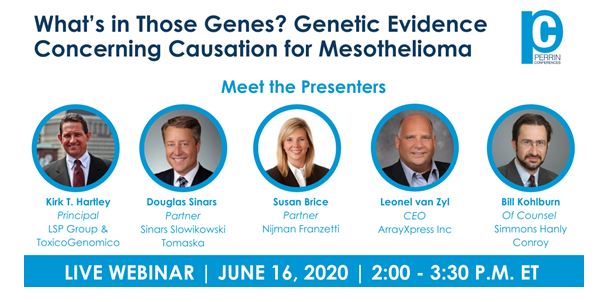 Genetic Evidence Concerning Causation for Mesothelioma 16 June 2020 at 2pm Eastern Daylight Time.

The use of genomics in personal injury cases continues to accelerate, especially including mesothelioma cases. A panel of five speakers will present defense views, plaintiff views, legal rulings, and science on the use of genomics in mesothelioma cases. Speakers include scientific expertise in genetic sequencing, genomics and systems biology and lawyers with signficant experience in the use of genomics in litigation and regulation representing both the plaintiff and defense side of genomics litigation. 


ABOUT US

ToxicoGenomica is a multidisciplinary group of scientists and lawyers whose mission is to provide fully integrated services for using genomics and systems biology data in civil litigation. Members of the ToxicoGenomica team have been involved in delivering this type of information in toxic tort cases and are dedicated to accelerating the dissemination of information about the applications of genomics and systems biology to issues involving disease causation.