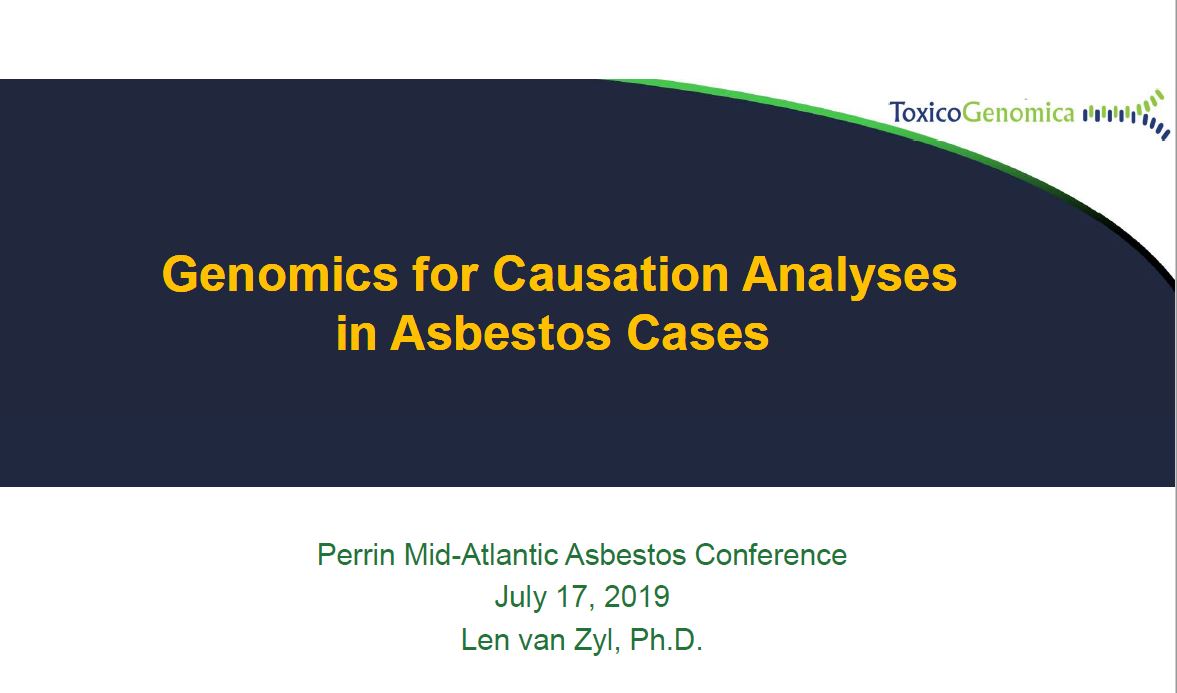 As we have written over the past few years, expert testimony involving genetic findings is becoming more and more common in asbestos litigation.
As we wrote previously, on Wednesday, July 17 (2019) Dr. Len van Zyl of ToxicoGenomica presented at the Perrin Mid-Atlantic Asbestos Conference where he discussed important new emerging science relevant to the use genetic data in the defense of asbestos cases. His talk was titled Genomics for Causation Analysis in Asbestos Cases and Dr. van Zyl discussed many relevant topics for attorneys considering whether genomics may help their case(s). Some of the topics include: What genomic analysis can add to litigation (i.e., "Make Visible the Invisible!"), privacy arguments do not defeat genetic testing, the basics of genetic testing for litigation (who, what, where, how), and examples of plaintiff and defense arguments regarding cancer.
Dr. van Zyl was joined by attorneys from the firms Maron Marvel Bradley Anderson & Tardy and Weitz & Luxenberg on a panel titled The Science & Medicine of Genetic Testing in Malignancy Cases: The nuts and bolts of testing. The presentations and ensuing interactions provided important insights for asbestos attorneys interested in learning how genetic findings could impact their cases.
Fill out the form below to access your complimentary copy of Dr. Len van Zyl's presentation.
DOWNLOAD SLIDE PRESENTATION
Download your complimentary copy of Dr. Len van Zyl's presentation.